Consult your owner's manual:
Your owner's manual will provide you with important information about the type of oil and lubricants that are recommended for your boat. It will also give you instructions on how often to change the oil and lubricants.
Consider the type of engine:
Different types of engines require different types of oils and lubricants. For example, two-stroke engines require oil mixed with fuel, while four-stroke engines require separate oil and fuel systems. Make sure you know what type of engine your boat has before selecting the appropriate oil and lubricants.
Marine-specific oils and lubricants are designed specifically for use in the marine environment. They are often formulated to resist the effects of saltwater and moisture, and they may contain additives to protect against corrosion and wear.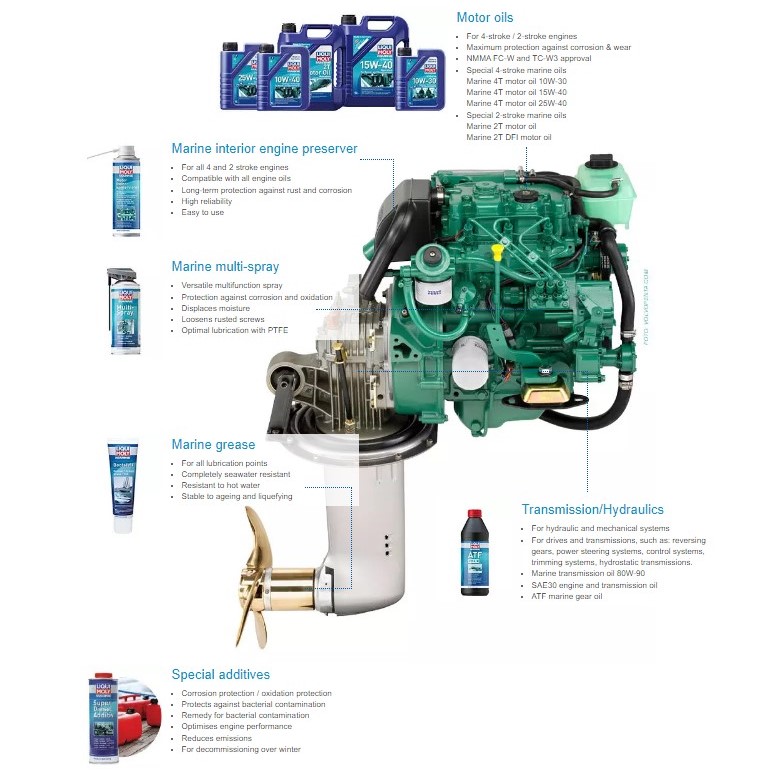 Check the viscosity:
The viscosity of the oil you choose is important, as it affects how well the oil flows and how well it lubricates the engine. Again, consult your manufacturer's recommendations for the appropriate viscosity for your engine.
Consider the temperature range:
If you operate your boat in extreme temperatures, you may need to use a different type of oil than if you operate in more moderate temperatures. Check the oil's recommended temperature range to ensure it will perform well in your operating conditions.
Don't forget about other lubricants:
Your boat may have other machinery that requires lubrication, such as the steering system, propeller shaft, and other moving parts. Make sure you use the appropriate lubricants for each of these systems and follow the manufacturer's recommendations.
Regular maintenance:
Finally, be sure to perform regular maintenance on your boat, including oil changes and lubrication of other machinery. This will help keep your boat running smoothly and extend the life of your engine and other equipment.